Vancouver, BC, Canada, [June 2022] – Women-Owned Medical Consulting and Professional Services firm, Integra, is demonstrating its commitment to supporting important mentorship opportunities for Black Girls in British Columbia, through a donation to the Empowered Black Girls conference.
On June 2, 2022, Integra presented a $3000 donation to Empowered Black Girl at Integra's Head office: Suite 1920, 1177 West Hastings Street, Vancouver, BC V6E 2K3.
"The Empowered Black Girl project is important to me as I believe mentoring is imperative to young adults, not only because of the knowledge and skills learned from the mentors, but also because it provides professional socialization and personal support," said Winnie Keji, Director of Operations at Integra.
"With the rise of conversations on systemic racism faced by Black, Indigenous, and other people of colour in Canada, Black Women & Girls face further challenges that intersect with their race, gender, immigration status, and in some cases, disabilities. This is why we designed a culturally responsive program that considers the current realities of Black girls in Canada," said Adaeze Oputa, Program Director, Empowered Black Girl.
Empowered Black Girl is "a program that would be a safe space to not only acknowledge but create awareness of the discrimination and systems of oppression that Black girls, and women face. We believe that an environment such as this will encourage positive racial identity which is linked to higher resilience, self-efficacy, self-esteem, and school grades." In 2021, Empowered Black Girl held their first annual conference in Vancouver with the aim to inspire and empower Black Girls to become high-achieving leaders by connecting young Black Girls with Black Women business leaders. The second Empowered Black Girl conference will take place in July 2022.
"When Winnie approached me about supporting The Empowered Black Girl project, I was impressed by both their community outreach as well as their mentorship program," said Erica Enstrom, Founder & Owner of Integra.
"Supporting young women in their growth is something that I have always believed was important, from my days as a high school volleyball coach early in my career, to my transition from employee to business owner most recently. I think about all the people who rallied around me during the last twenty-five years – those who both encouraged me to grow and valued me as I was – and I want to return those feelings of abundance and support to our younger generations. And frankly, as Winnie is an integral part of our Integra team, and this is a cause important to her, it becomes important to me by default."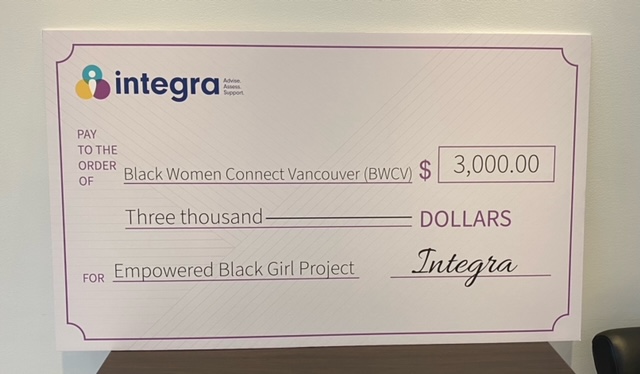 About Empowered Black Girl:
Empowered Black Girl is a conference focused on mentorship for Black Girls in British Columbia, Canada. The conference provides a platform for Black Girls to interact and have empowering discussions with Black Women from the private and public sectors in Canada.

About Integra:
Integra guides and connects health, insurance, HR, and legal professionals to achieve positive, and evidence-informed outcomes that move people forward. With over 20 years of medical, legal, and assessment industry knowledge and experience, Integra brings integrity, insight, and respect to every aspect of their work and relationships with clients, partners, and employees.
Contact:
Winnie Keji
604.259.3141
winnie@integraconnects.com